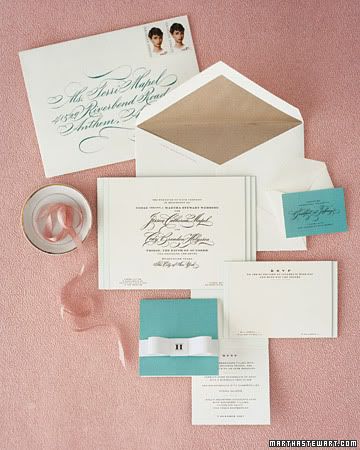 With so many options, how do you decide on a wedding invitation? And, when you check the price, how do you know it is worth it?
Honestly, I cannot answer those questions. You really just have to follow your heart.
When Bill and I were planning our wedding, we knew that we wanted a theme. So, since both of us had a childhood fascination with the poem, Starlight, Star Bright, we used it as our theme and picked our invitations based on that. The only stationary we actually had professionally printed was the invitation. Everything else (the programs, reception cards, place cards, etc.) we made ourselves. [Please note that I had an amazing team of friends in our wedding party and we would get together to make the programs and such so that I did not have to do all the work alone.]
There are so many possibilities now that I did not have available then… I almost cannot imagine having invitations printed at all. Visit any office supply store and you will be stunned at the variety of wedding stationary available. If you are a little crafty, you can visit a hobby/craft store and load up on cute stuff to make your own stationary… and at great sale prices!
However, the most basic way to save on stationary is to limit your guest list. I know that it is hard. Believe me! We had over 400 people at our wedding. But, most of them I did not even know and have never seen again. Did they really need to be invited? (I will not answer that question on the grounds that my answer may incriminate me in the minds of my mother or mother-in-law!)
So, make your guest list. Go over it again and eliminate ten people. Do that again. And again. And… you get the picture. Surround yourself with the people you love and not just the people you hope will give you a great gift off your wedding registry. (Not trying to offend. Just being honest.)
Another way to save big is to skip the reception card. If you MUST have a reception card, then use a postcard and save yourself some postage for the return stamp.
For other ideas, I suggest you browse these links:
Wedding.About
e-How
Make Your Own Invitations
Wikihow
Free Diligence Lesson
Subscribe and receive my free diligence lesson plan with printable wall pages by email.