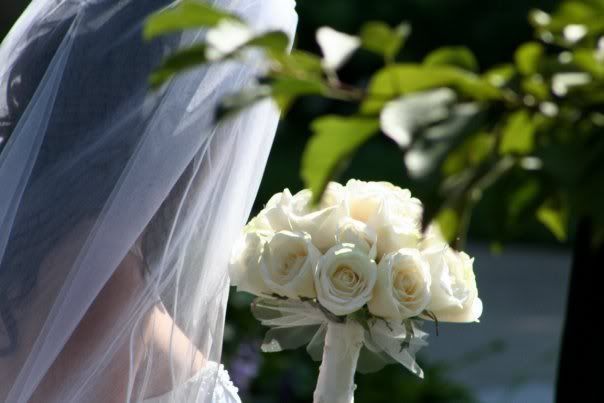 The wedding season is here!  Maybe you are getting married or you know someone who is.  Use this information to plan a fabulous, yet frugal, wedding.  "What?" you ask. "How is it possible to have a fabulous AND frugal wedding?"  Well, over the next five days, I plan to tell you!
Personally, my mother and I joke that I was able to have a $20,000 wedding on a $10,000 budget.  That might be way out of your reach.  No problem!  I have helped coordinate several weddings and one friend only had a $500 budget.  YES, it was a lovely wedding!
So, where do you start?  The first step is always to SET YOUR BUDGET!  Do not roll your eyes.  Figure out how much money you can spend (without going into debt) and write that number on the top of your page.  Write the following list on your page:
Bride's Apparel
Groom's Apparel
Consultant
Ceremony Site Fees
Reception Site Fees
Caterer
Wedding Cake
Invitations (including postage)
Other Stationary (Announcements, Thank You Notes, Programs, etc.)
Accessories (Guest Book, Pen, Farewell Throws, etc.)
Photography
Videography
Music (Ceremony & Recption)
Flowers (Decoration and Bouquets)
Officiant
Transportation
Attendant's Gifts
Wedding Favors
Rentals
Honeymoon
Other (_____________________)
If someone else is taking care of a particular category, write their name next to that topic.
Now, look at that list and circle the THREE things that you refuse to compromise.  Which THREE are the most important to you?  For me, it was Bridal Attire (because I HAD to look GOOD), Photography (because this was how I would remember my wedding), and Transportation (because I really wanted a Bentley).  Your three may be completely different.  There is not a wrong answer.
Next, you will price out how much your top three will cost.  Look around.  Make some appointments.  Learn what the going prices are.  Then, set these figures.  How much money do you have left?  Divide that among the remaining categories where you need it.
Struggling to figure that out?  Perhaps the percentages on THIS page will help you.
For the rest of the week, we will break down these categories and talk about ways to save money in each one.
Free Diligence Lesson
Subscribe and receive my free diligence lesson plan with printable wall pages by email.