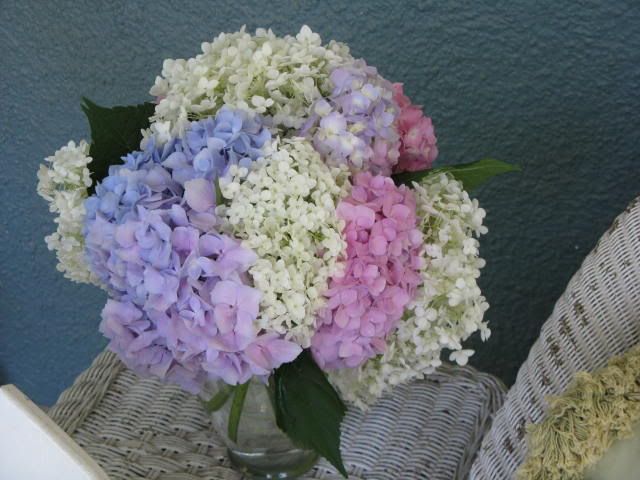 Flowers can be one of the most expensive parts of a wedding and that is why many brides limit the use of them to a few bouquets and maybe one large arrangement. I think there are other ways to save though and still have flowers at your wedding.
Plan your floral arrangements before you visit the florist.  Where would you like to have flowers (and do not say, "Everywhere!")
Think about letting your arrangements double their usage by transferring them from the ceremony to the reception. 
Put the bouquets to work at the reception by asking the attendants to put their bouquets into vases as centerpieces.
Use a lot of greenery and baby's breath as a filler with ribbon.
Borrow ferns or other green plants from around your location (ask for permission) or from friends.
Allow nature to be your backdrop and skip the additional flowers all together.
Study in advance and arrange your flowers yourself.
Purchase flowers in bulk from Sam's Club or wholesale vendors that are open to the public.
Use potted flowers where you can.
I personally love this next idea and it takes care of two expenses at one time!  Purchase tiny flower pots and paint them a color to match your theme.  Plant an small flower in each pot and then group the pots together at each table.  Have a sign that requests each guests "pick one."  You have a centerpiece and guest favor all in one!
What did I do to get flowers cheap?
We used an independently operated floral business (not a chain) that our family has used for years so we had a depth of trust in our relationship.
We used a lot of the same flowers, hydrangeas, baby's breath and ferns, which the florist sold to us at their cost.  We only had to pay marked up priced for flowers we used sparingly and paid for the labor/delivery.
There was one large arrangement in the foyer of the church that was transported to the reception location.
The candleabras at the wedding  were decorated with greenery, baby's breath, fern, ribbon, and star garland.
The bridesmaids put their flowers in vases to serve as centerpieces at smaller tables.
We used only five floral centerpieces at the reception, elevated on ceramic pedestals.  Tables without flowers had candles, tulle, star-themed confetti and/or star-shaped Christmas ornaments (although the wedding was in June).
If I could change one thing about my flowers, I would have used silk rose petals for the flower girl.  The real rose petals ended up looking really ugly and crushed.  Silk would have been cheaper too.
For a TON of additional ideas that I did not mention, please visit HERE.
Free Diligence Lesson
Subscribe and receive my free diligence lesson plan with printable wall pages by email.