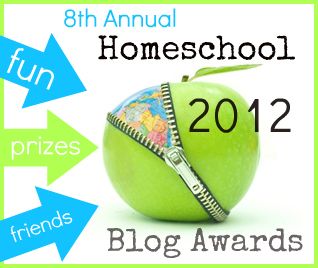 The Homeschool Post is home to the Annual Homeschool Blog Awards and nominations for this year's award open today.
If you have a blogger whom you really admire, this is your chance to give her (or him) a HUGE pat on the back by nominating the blog for one of these awards.
Awards category descriptions
1. Best Homeschool Mom Blog
If there's a blogging mom out there that has been a particularly good example to you and you want to let her know… consider her for this nomination! [Her blog does not have to be exclusively about motherhood or homeschooling.]
2. Best Homeschool Dad Blog
We love to hear what dad has to say. Especially if he includes homeschool posts off and on. [Blog doesn't have to be exclusively about homeschooling.]
3. Best Blog Design
Here's your chance to nominate a gorgeous blog design and give a code-and-design savvy blogger a pat on the back for her talent (or give her hired web designer some credit!).
4. Best Photos
This blogger has photographic talent and makes her posts pop with eye-candy. We want to thank those of you who post pictures and graphics that inspire us! The winner of this category will be one that takes her own photos — not someone who only uses stock images.
5. Best Crafts, Plans & Projects Blog
Do you turn to the blogosphere for a steady supply of great craft ideas, lesson plans, or projects that you can do with your homeschoolers? Why not share your favorite how-to blogs that provide us with things to be inspired by and ideas to use with our kids and in our homes.
6. Best Family or Group Blog
Nominate your favorite Homeschool Family blog or your favorite group blog that is either run by Homeschoolers or discusses homeschool issues. [Blog doesn't have to be exclusively about homeschooling. Remember that if more than one of our authors are part of the group blog, it is not qualified to win. THIS BLOG MUST HAVE MULTIPLE AUTHORS.]
7. Best Encourager
It is time to say thanks to those bloggers out there who lift you up out of the homeschool "blahs" and help you get back on track. The winner of this category doesn't have to be perfect or always in a good mood… just someone who makes you feel as if someone else cares and has a positive attitude overall.
8. Best Current Events, Opinions or Politics Blog
We don't want a strictly political blog that is run by a homeschooler unless quite a few posts have relevant information pertaining to homeschooling. News clips that affect our freedoms as homeschoolers and how homeschooling is portrayed in the media are ideal. We love to hear what other homeschool teachers are thinking and reading and their views on things that affect us all. [This blog does not have to be exclusively about homeschooling, current events, or politics… just a blog that often shares opinions on matters that you enjoy learning from.]
9. Best Homemaking or Recipes Blog
This blog should have content regarding homemaking, housekeeping, tips, ideas for making your life easier, information about raising multiple kids, or recipes that you enjoy trying. [This person should be a homeschooler but the blog doesn't have to be exclusively about homeschooling, homemaking or recipes.]
10. Best Teen Blog
Let's encourage those young bloggers to speak up and be a good example for their peers. I have seen so many wonderful teen blogs out there that deserve recognition. Let us know what some of your favorites are! Teen blogs can be any blogs run by teens who are at least 12 years of age. The winners will have to submit permission slips signed by their parents — see legal page at HSBA for more details. [This blog does not have to be exclusively about homeschooling, but homeschooling should be mentioned often or it should be obvious from the template that the teens are homeschoolers.]
11. Funniest Homeschool Blog
We all need a laugh in-between laundry, lesson plans and losing our cool. It is nice to get your smile back so you can share it with your students (who can only take "so much gloom" as Ma Walton said so eloquently on The Waltons television series). Nominate your favorite crack-pot or crack-up homeschool blog here.
12. Best Special Needs Blogger
These are the moms that have the extra challenges — they go above and beyond to help their children succeed. We hope to help connect all sorts of bloggers — special needs included.
13. Best Homeschool Vlogger
It's a rare treat to get to be the "fly on the wall" in someone's homeschool. Don't you always love seeing what's on other people's book shelves and watching them demonstrate things on video, though? Vlogging is a wonderful way to spread the homeschool encouragement around on the net.
14. Best Variety
This blogger is one that could fit in any of these categories … but they just can't be pinned down in ONE. This type of blogger is the ADD hyper-focused type… always moving on from one thing to the next… and always keeping you interested in coming back for more!
15. Best Thrifty Homeschooler
Most of us are homeschooling on a shoe-string. Nominate your favorite money-saving blogger so you can share her tips with the blogosphere and bless a bunch of homeschool children in the process! [Blog doesn't have to be exclusively about frugality.]
16. Best SUPER-HOMESCHOOLER
Ever feel like a loser after reading someone else's lesson plans, seeing their field trip photos, listening to them talk about what they got done today, or seeing pictures of their children's accomplishments? You were probably feeling the effects of visiting a SUPER-HOMESCHOOLER's blog. These are the A-list homeschool parents that just BLOW YOU AWAY with their enthusiasm. We all have our good days, but this blogger has us all beat.
17. Best Nitty-Gritty Homeschool Blog
Since we included a category for the Super-Homeschooler… I figured we would add one in for the homeschooler who is brutally honest and open about her mistakes and failures. These are the moms that make you feel better and let you know that it is OK that we aren't perfect. What would we do without them???
18. Best NEW Homeschool Blog
It is hard making a name for yourself in the blogosphere. A lot of times, you feel as if you are writing and no one is out there. If you have stumbled upon a great new blogger who has a lot of potential and you want to share them with the rest of us… please consider nominating them for this category! [A new blog is one that appeared on the scene during or after last awards season.]
19. Best Homeschooling Methods Blog
There are a lot of methods used to homeschool. Are you a boxed curriculum gal? A Classical homeschooler? An unschooler? Do you thrill on Unit Studies or spend time outdoors doing Charlotte Mason-type nature walks? Are you a mixture of everything (eclectic)? Make sure you tell us what TYPE of method this blog showcases so we can list it on the voting page!
20. Best Homeschooling Nature/Field Trip Blog
Have cabin fever? Looking to get OUT and see the world — sketch it, research it, photograph it? Who inspires you to take the kids out and enjoy Creation? Who makes you scratch your head in wonder while showing you all the fascinating things they have discovered outdoors?
So GO VOTE and give your favorite blogger a BIG pat on the back.
Free Diligence Lesson
Subscribe and receive my free diligence lesson plan with printable wall pages by email.