If you are looking for a way to purchase one gift for an entire family, my recommendation would be to purchase something they would not normally purchase for themselves.
Consider these ideas for giving a gift that will bless the entire family.
Established in 1949, Your Story Hour produces dramatized audio stories to reinforce the importance of making good choices. Each story begins with a friendly intro by Uncle Dan and Aunt Carole, and the stories incorporate different voices with quality acting to draw the children's attention.
Heirloom quality nativity and advent wreath combination is fashioned of ceramic with glossy finish in gentle earth tones. Four groups of figurines fit together to form a circle around the center votive: Holy Family, wise man with animal, shepherd with lamb and angel, and two wise men; each piece includes a candle holder to display your advent tapers; circular votive holder in center; candles not included. Standing figures are approximately 6″ tall; all show detailed facial features and Bible times clothing; in warm neutrals to blend with any decor. Unique design provides many display options that include the nativity in your Advent celebration. Created exclusively for the Gift Collection at Christianbook.com. We recommend .75″ taper candles, 10″ tall. Candles not included.
Nintendo Wii U Console – 32GB Black Deluxe Set
Create a family experience that even the children will love by gifting a complete Wii entertainment system to your family. When we were given enough Wii accessories for the entire family to enjoy a multi-player game, we discovered a new way to connect with our children.

Keurig K65 Special Edition Gourmet Single-Cup Home-Brewing System with Water Filter Kit
This Christmas, I am dreaming of mocha, coffee, hot tea, and hot chocolate. Truly, a Keurig can be a gift to the entire family and not just because a caffeinated mother is a happy mother.  Purchase a Keurig machine with a selection of K-Cups that the entire family can enjoy with ingredients for s'mores. It's a toasty evening together just waiting to happen.
Enroll your family in NatureBox and they will receive a box of healthy and delicious snacks for just $20 a month.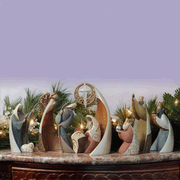 Legacy of Love Nativity, 9 Piece Set by Kim Lawrence / Gregg Gift Company
Contemporary nativity set, designed by bestselling artist Kim Lawrence, is stunning in its simplicity and creative details. Muted colors, gold swirl accents, and graceful curving shape of each figurine display the birth of Christ with a sense of wonder at this holy moment.
Included are nine figures: Christ child , Joseph, Mary, Shepherd and sheep, three kings, and angel. Shimmering star with openwork gold-trimmed detail stands over the baby. Figures range to 7.25″ a unique and elegant Christmas accent for your home or church. Crafted of smooth resin with metallic trims; a Legacy collector Christmas keepsake.

The Gift of Love Deluxe Gift Set
A collection of art lessons and the supplies needed to complete each beautiful project would please any family as they learn together.
Get it from See the Light.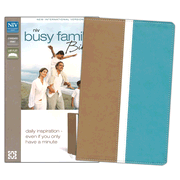 NIV Busy Family Bible: Daily Inspiration Even If You Only Have a Minute, Italian Duo-Tone, Camel/Turquoise By Zondervan
Got a minute? Only a minute? This Bible is thoughtfully designed for your busy family. We're all looking to spend quality time with our families while deepening our faith, but who has the time? Packed with inspirational devotions—each providing a prayer, fun family activity and options to go deeper into the Bible as time allows—the NIV Busy Family Bible is the perfect companion for families constantly on the go.
Features
Complete text of the NIV, 2012 update
26 special pages featuring 52 devotions providing

A prayer
A fun family activity
Options for "going deeper" into God's Word

Words of Jesus in red
Presentation Page
Topical Index
Ribbon Marker
8.75″ x 5.75″ x 1.00″
Help a family save money on groceries all year long by purchasing a membership to The Grocery Game. Lists are provided for their local stores, helping busy families to stockpile groceries at the lowest prices. The average family can save $200 to $500 by using The Grocery Game's techniques.
Our family uses We Choose Virtues for discipline and to train ourselves to be people of character.
This Kit was specially assembled with all the things a family needs to learn 12 Virtues. This Kit takes up less wall space than the Homeschool Kit, but it has all the essential "nutrients" you need to make your home a place of Virtue. The Parenting Cards included in this set were created to help you inspire and demonstrate each Virtue and turn your home into a place where Virtue is demonstrated with both attitudes and actions!
Purchase it at We Choose Virtues.
Free Diligence Lesson
Subscribe and receive my free diligence lesson plan with printable wall pages by email.