I am not opposed to slow cooking anything… as long as I can take a nap while I wait. That is why I call this beef and bean burrito recipe "Siesta Burritos" because while the filling simmers, you have plenty of time for a snooze.
When my children were young, I would put dinner on to cook after lunch – something slow and low – put the kids down for a nap, and would lay beside them as they slept. Eventually I would fall asleep myself, and I think my body became programmed to dozing at mid-day. and now that they no longer nap, I miss it.
I still love naps but they are reserved for about once a month on weekends when my husband is home. On one such afternoon, I put cooked ground beef, pre-soaked black beans, and whatever I thought might match into a pot, covered it with the temp set to medium-low, and headed for bed while the kids played electronics under the watchful eye of my hubby.
Bliss.
And not just the nap… these burritos!
The slowly simmered beef and beans have a hint of chipotle from the sauce and while you might prepare them while you siesta, when you eat them… it will be a fiesta… in your mouth!
Siesta Beef and Bean Burritos
The chipotle cooking sauce brings a nice heat to these Beef and Bean Burritos so serve them with sliced avocado or sour cream to add a refreshing chill and creaminess to the meal.
Ingredients
1

pound

ground beef

cooked and drained

1

pound

black beans

soaked overnight, rinsed, and drained

1

tablespoon

olive oil

1

clove

garlic

minced

1

onion

diced

1

green bell pepper

diced

1

15 ounce can tomato sauce

6

ounces

half the jar Herdez Traditional Chipotle Cooking Sauce

1

tablespoon

cumin

1

tablespoon

chili powder

1

teaspoon

salt

1/2

teaspoon

oregano

1

bay leaf

about 4 cups water

10

burrito-size flour tortillas

1

10 ounce can red enchilada sauce

2

cups

shredded Mexican cheese blend
Instructions
If you will be baking these immediately, preheat oven to 350 degrees.

Place large sauce pan or dutch oven over medium high heat and add olive oil.

Add onion, bell pepper, and garlic, simmering about 2 minutes.

To the vegetables, add the beef, beans, tomato sauce, chipotle cooking sauce, cumin, chili powder, salt, oregano and bay leaf.

Stir in enough water to cover the mixture by one inch.

Bring to a boil and reduce heat to medium-low. Cook until beans are tender, adding more water if needed, about 3 hours.

Remove the bay leaf and evenly divide the beef and beans among the tortillas, rolling and placing in a casserole dish with the seam side facing down.

Cover the dish of burritos with enchilada sauce and cheese.

Either cover and freeze or cook for 30 or until cheese is melted.
The recipe with the most clicks was ~
Gorgonzola, Apple, Cherries, Pecans & Bacon Salad with Sweet Balsamic Dressing by Sweet Little Bluebird
Recipes that caught our attention ~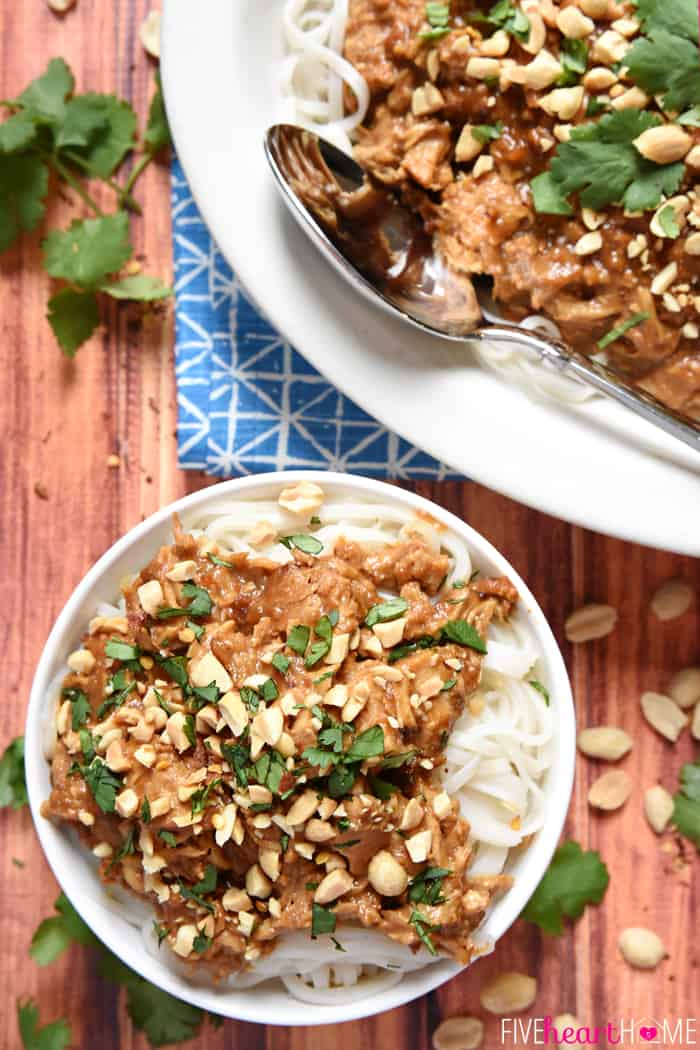 Slow Cooker Thai Chicken with Peanut Sauce by Five Heart Home
Blackberry Pie Bars by Big Rigs 'n Lil' Cookies
Your hostesses ~
Remember that when you link up, it shows on all FIVE blogs. Plus…
We TWEET. We PIN. We LIKE.
Linky Guidelines:
If you wish to be a featured recipe or for us to promote your recipe either on Facebook, Twitter, or Pinterest, you MUST follow these instructions.
Please link up to your exact post and not the main page to your blog.
LINK BACK HERE from your post so that others can find the fun. (Need help linking back? Read this or watch this great instructional videoPlease use a direct link within your post.
When you are kind enough to follow our guidelines, we work hard to get you as much exposure as possible so that your time here is well invested. We want this to be a fun and rewarding experience for everyone!
Free Diligence Lesson
Subscribe and receive my free diligence lesson plan with printable wall pages by email.