This post contains affiliate links. For more information, please read my disclosure policy.
Father's Day is a blessing because we can set aside one day and just focus on the great Dads in our lives. Father's Day is a pain because… what do you get the man who has everything?
Whether your budget is tight and you need free Father's Day gift ideas or you have some money set aside for celebrating dad, you are sure to find some Father's Day presents he will love in this roundup.
Free Father's Day Gift Ideas
Jar of Affirmations
Even Dad will get down sometimes so give him an encouraging gift. Use paper, index cards, or paint chips to write down things you love about Dad. Place them in a clean pickle or jelly jar and wrap with pretty paper and ribbon.
RELATED: Ways to Recycle Mens Ties
Hand and Foot Art
We often think of hand and foot art for Mother's Day but dads love those tiny fingers and toes too. Grab a piece of paper or canvas and some paint to tell Dad, "Hands down! You're the best!"
No paint? No problem. Trace tiny hands on colorful scrapbook paper and glue them to a plain sheet to frame later when the glue is dry.
Coupon Book
Use your computer and printer to put together a meaningful gift for Dad. Ask each person in the family in what way they can serve Dad and make a coupon for each. Add construction paper for the front and back before stapling together.
Audio Book Collection
Gather up a few books and read them in your own voice. Burn the audio onto a CD, flash drive, or an audio file (using the voice recorder on your phone) for Dad and give it as a special (free) Father's Day gift.
Not into putting your own voice to work? Download the free audiobook available this month from Christian Audio or get TWO free audio books when you start a new account at Audible.
Get 2 FREE audio books at Audible here.
Grill Rubs
Reach into your pantry and create your own DIY grill rubs. Package the new rubs in baby food jars and slide them down into a canister (like an empty Pringles container) to wrap. Or use small, round plastic storage containers and stack them together, securing with ribbon.
Time to Chat
You know what my Dad really loves? Time to just chat. That's it. He just wants to talk about what is going on in his life and what is going on in my life. We talk about what he is learning in his Bible studies and about whatever is happening in the world. Those moments are priceless for him and for me.
Free Father's Day Printables
And, in the spirit of FREE love for Dad, check out all these free printables available to help. From cards to wall art to gift tags and more:
More DIY Father's Day Gift Ideas
If you love making gifts yourself, check out these great DIY Father's Day gift ideas.
Mustache Mug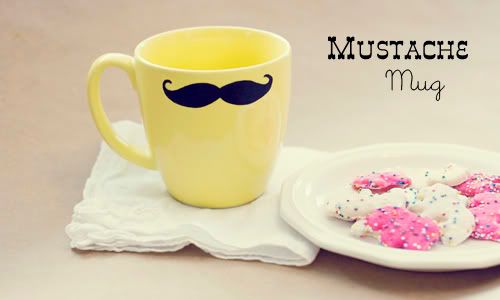 For just a few dollars, you can create an original mustache mug for Dad with help from a tutorial by From The Tortoise and the Hare.
Photo Puzzle
Visit Oh Amanda for instructions on how to take a great photo (or three) of Dad with the family and create a photo puzzle.
Father of the Year
I love these Father's Day trophies from Smart Class. I cannot imagine how special each recipient felt getting these awesome awards.
The Best Father's Day Gifts available at Amazon
Too busy to make it to the store and need to grab something awesome from Amazon? Shopping at Amazon is super convenient and shipping is shockingly fast when you have an Amazon Prime account.
Start your 30 day free trial of Amazon Prime here.
Great Grilling
Who knew that if you had $30 you could get Dad a Cuisinart Grill? REALLY! I was shocked to find this inexpensive grill for so cheap.
W had the same Weber for 18 years and it was still grilling strong when we gave it away. So if you prefer the Weber brand, this one is under $50 (at time of publication.)
Traveling Conveniences
These are actually two products that I personally use for traveling and LOVE them: the
Belkin mini travel charger
and
Gear Ties
. My life is so much easier because my cords stay nice and neat moving through security or at a conference, and I always have a way to charge my tech devices even if there is only one outlet available.
Putt Cup – 16oz Coffee Mug + Putting Trainer
If Dad is an avid golfer (or wished he was,) this is a fun twist on a traditional coffee mug.
Verified Review: "Purchased the Putt Cup (prime shipping) for my Dad's birthday and purchased an extra one just to have for myself. Hilarious play on an office classic, putting into the coffee mug. Love this product because the ball will actually go in if not perfectly hit, plus it looks like a golf-cup/grass. "
Pop Up Golf Chipping Net
Along the same line as the putt cup but a little more advanced (although under $30,) this pop up golf chipping net will give Dad a way to practice when at home or even traveling as it can fit into a suitcase.
Verified Review: "My husband loves golf and enjoys hitting the ball around our backyard when he can't make it out to the course. I surprised him with this for his birthday & it was a huge win. It was also fun for me to join in on a little golf chipping challenge. Good quality, easy to set up and take down. Definitely recommend."
Drive Auto Car Trunk Organizer
If Dad has a lot of gear to take around… either for work, coaching, or whatever… give him a car trunk organizer to help him keep it all together. (Psst… it works in trucks too!)
Verified review: "I bought a new RAV4 and was looking for something to keep all my stuff organized. I tend to 'live' out of my vehicles and wanted something that would hold and organize all my stuff. I picked this DRIVE organizer and am very happy. The size is perfect. Not too big, not too small. The sides are soft but not flimsy. The three partitions work really well for me. I have used this organizer both in the cargo space and in the front seat. I like the ability to anchor the organizer with straps if needed. All in all, this was a great buy and now my Dad wants one."
Burt's Bees Gift Set
Because Dad's hands do a lot, give him a gift that will pamper him without making him feel girly.
Verified review: "These are sampler sizes, so they're small, but that's great for carrying in a purse or pocket. The cuticle butter (which smells delicious!) will last ages even in this small tin, and the lip balm is full size. I put on the honey hand cream first thing, and it smells wonderful and feels great. Not sticky at all, just softening. I know from past experience I like the foot cream, and am looking forward to trying out the almond & milk hand cream. The hand salve is fantastic – my dad who is a mechanic and has the hands to prove it recommends it highly. It smells like rosemary."
He Fights for You: 40 Promises for Everyday Battles by Max Lucado
Give Dad a father's day gift that will keep him encourage long past June. This booklet by Max Lucado is not a comprehensive read but a collection of 40 Scripture promises to keep dad focused.
Verified review: "This isn't a book. It's a quick read through. Almost like a small brochure. It's very small and not many pages. But my dad likes it."
Skechers Men's Go Walk Evolution Ultra
If your father loves to go for walks, get him a new pair of awesome walkings shoes and go for a walk with him. Walking together is a great time to chat about plans, memories, and all the details that we often forget when busy.
Verified review: Bought one pair for my 84 year old dad. He liked them so well, I purchased a second pair for him. Really nice when tying laces gets a bit too bothersome. Very stylish no matter what your age and great soles. I am generally reluctant to buy shoes online, but I definitely did not go wrong with these."
Custom Socks with Faces
If shoes are too sensible for a father's day gift idea, what about some silly sock personalized with your face? Remember to purchase these with enough time for them to be customized.
Verified review: "I ordered several pairs of socks with my kids' faces for my dad for Father's Day. They are so funny and well-done! Their heads are perfectly cut from the pic, no background showing, and the pic is clear. They're so funny and my very conservative dad can't wait to where them around all his friends 🤩 I thought they were a little pricey when I ordered, but the end result is priceless."
Magnetic Wristband
My husband actually bought this for himself one year and loves it. He actually gets excited when I give him a home improvement task to do because he gets to wear his magnetic wristband.
Verified review: "My dad is hard to buy for but very handy! So this is perfect for the handy man in your life! Think he's gonna love it!"
37 in 1 Survival Kit
If the Dad hunts, fishes, hikes, camps, or just loves gadgets, pick up this handy 37 in 1 survival kit. It has everything from a fire starter to a tactical pen, and it's affordable!
Verified review: "I purchased this for my dad for Father's Day. He has a boat and not to lie he makes us nervous!! This kit has everything you may need in case of an emergency. It always is a very nice case!"
More great Father's Day Gift Ideas from Amazon
8
Need more Father's Day present ideas?
Also be sure to check these out:
Other Father's Day Ideas