As part of the Eat Out at Home Challenge, Bill and I have been experimenting with some different Mexican flavors. After mixing up a batch of homemade 50/50 Wheat Tortillas, I grabbed some cooked Boston Butt (pork roast) from the freezer.
I love the flavor of Mexican barbecue sauce but I honestly have no idea what is in it or where to even begin guessing. As the meat defrosted in the microwave, I added barbecue sauce, cocoa powder, and cumin to a sauce pan. When the pork was heated, I shredded it with two forks and stirred it into the sauce, allowing it to simmer for about ten minutes.
Meanwhile, I prepared the warm black bean and spinach salad. This salad is super simple, and you can use fresh or (thawed) frozen spinach.
Frugal tip: When I have spinach starting to wilt but not yet rotten, I will stuff it into a freezer bag and place it in the freezer until needed. This works perfectly for a recipe requiring spinach that will end up cooked.
As I worked at the stove, I talked Bill through making his very first guacamole.
When we sat down for our meal, I felt as it we had visited a fine Mexican restaurant. Dinner was delicious and… dare I say it… better than anything at our favorite Hacienda.
BBQ Pork Carnitas
Ingredients
2 to 3

cups

prepared shredded pork

1

cup

barbecue sauce

1

teaspoon

cocoa powder

2

teaspoons

cumin

Salt and pepper to taste
Instructions
Stir together barbecue sauce, cocoa powder, and cumin in a medium sauce pan. Add cooked, shredded pork and heat thoroughly.

Serve on warm tortillas with choice of toppings.
Warm Black Bean Spinach Ensalada
Ingredients
2

tablespoons

olive oil

1

small onion

diced

1

stalk celery

diced

1

clove

garlic

pressed

2

cups

cooked or canned black beans

drained and rinsed

3

cups

fresh spinach

1

can diced tomatoes in juice

2

teaspoons

taco seasoning

Salt and pepper to taste
Instructions
Heat olive oil in a saute pan over medium-high heat. Add the onion, celery and garlic, cooking until softened.

Stir in black beans, spinach, tomatoes, and taco seasoning. Cover and simmer until the spinach has wilted, stirring as needed.

Adjust flavor with salt and pepper and serve.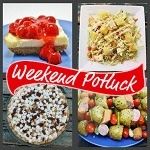 Free Diligence Lesson
Subscribe and receive my free diligence lesson plan with printable wall pages by email.